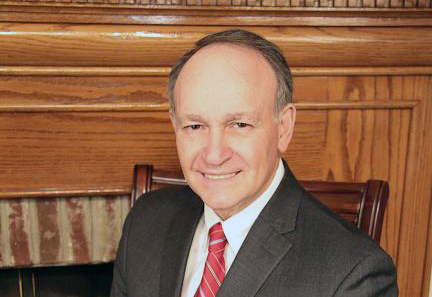 This email address is being protected from spambots. You need JavaScript enabled to view it.
Jerry Lee Canfield has practiced with Daily & Woods, P.L.L.C., in Fort Smith, Arkansas, since graduating from the University of Arkansas School of Law in 1970. His civil law practice continues to focus on client advice, trials and appellate representation in municipal law, oil, gas and mineral law, and general civil litigation representing individual and business entity clients of the firm. 

Mr. Canfield is a graduate of the University of Arkansas (B.A. 1968) and University of Arkansas School of Law (J.D., summa cum laude 1970).  He is licensed to practice in Arkansas courts and the federal courts in Arkansas and the Eighth Circuit Court of Appeals and the United States Supreme Court. He served as an adjunct professor of law teaching torts at the University of Arkansas (1974-75). In 2007, he received the inaugural Outstanding Government Lawyer Award from the Municipal Law Section of the Arkansas Bar Association. He received the 2014-2015 C.E. Ransick Award of Excellence from the Arkansas Bar Association and Arkansas Bar Foundation.

In 1968, the City of Fort Smith adopted an administrative form of municipal government. Daily & Woods, then an established civil law firm, was asked to provide legal representation for Fort Smith. When he joined the firm in 1970, Mr. Canfield became involved in representation of Fort Smith. In 1973, he was appointed as the City's legal counsel. He has led Daily & Woods in providing legal service for Fort Smith during development of more than one billion dollars of public improvement projects, including major street and drainage projects, two water reservoirs with treatment plants providing municipal water capacity through 2050, modernization of municipal utilities, and solid waste disposal capacity through 2040. He has handled litigation involving Fort Smith in both Arkansas and federal courts, often involving significant constitutional principles. The representation of Fort Smith has involved resolution of important regional disputes over water rates with the City of Van Buren, sharing with the City of Barling the rights of development of extensive acreage released from the Fort Chaffee Military Reservation, and expanding Fort Smith utilities into areas south of Fort Smith previously served by a regional water district. His representation of Fort Smith has qualified Mr. Canfield with expertise in eminent domain law. 

Mr. Canfield has provided representation of Arkoma Basin mineral operators in a series of class actions to resolve historical royalty issues. The firm's expertise in oil, gas and mineral law and Mr. Canfield's expertise in eminent domain law resulted in Mr. Canfield's representation of mineral operators and other clients with reference to the Fayetteville Shale mineral development project. Mr. Canfield successfully handled litigation concluding with decisions of the Arkansas Supreme Court confirming gathering pipeline eminent domain power, establishing industry favorable interpretations of Arkansas legislation affecting development of leased mineral acreage and affirmation of important mineral title principles. 

Since 1981, Mr. Canfield has been a board member of International Health Care Foundation, serving as Chairman of the Board from 2005 through 2011 and currently serving as its Vice Chairman. IHCF assists in the operation of hospitals and medical clinics in countries in West and East Africa. In 2010, Mr. Canfield was awarded the Foundation's Outstanding Service Award. His service to IHCF and with the mission's outreach of the WestArk Church of Christ in Fort Smith has given Mr. Canfield the opportunity to make more than twenty visits to the West African country of Nigeria. During a sabbatical from the practice of law covering portions of 1997-98, Mr. Canfield studied the Lao language and supervised a Lao government contract to provide clean water, sanitary facilities and health education for elementary schools in Vientiane, Laos. He continues to make annual visits to the Southeast Asian countries of Thailand, Laos and Vietnam.
Daily & Woods, P.L.L.C.
58 South 6th Street
Fort Smith, AR 72902
(479) 782-0361